BACK TO INSIGHTS
AUGUST 26, 2014
Louisville Business First, Partners in Philanthropy Award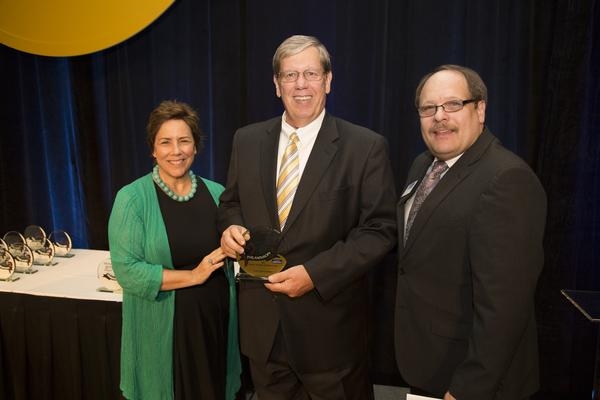 Kovert Hawkins Architects, Inc. is recognized at the Louisville Business First, Partners in Philanthropy, as a recipient of the "2014 Corporate Giving Award". Hal Kovert, is pictured below, accepting the Award on behalf of Kovert Hawkins Architects, Inc.
Kovert Hawkins Architects Inc. created a fund in support of Ball State University. (printed in Business First, 8/29/14)
Husband and wife Hal Kovert and Glenda Kovert funded the Straw-Bale Eco Center at Ball State University.
The center, constructed in 2007 and 2008 by students majoring in architecture and landscape architecture, is a demonstration project for sustainable building practices and is the first constructed component of the Land Design Institute's LandLab demonstration site in Muncie, Indiana.
Through the project, Hal Kovert, John Hawkins and Jamie Lake, principals of Kovert Hawkins and graduates of Ball State's College of Architecture and Planning, "saw the value of hands-on projects and the difficulty securing outside funding," Hal Kovert said.
They decided to establish a fund that professors could tap for expenses to undertake other similar student-built projects.
"This was timely as Ball State was promoting their university-wide focus on immersive learning programs where students learn in a real-world environment.
"Kovert Hawkins has contributed $55,000 to date for this fund."